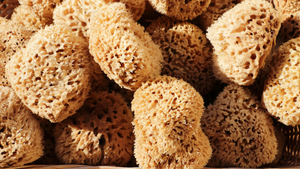 One step closer to clean, eco-living.
Support the under-water ecosystem by using biodegradable sea wool sponges that are harvested to promote regrowth.
WELCOME TO NISIÁ - 100% NATURAL SEA SPONGES
Imagine you're at a spa off the coast of Greece in the Dodecanese Islands. Now, welcome to our own little Greek corner right here in North America - Tarpon Springs, Florida, the sponge capital of the world.

Nisiá sea sponges are harvested carefully and sustainably by Tarpon Spring's famous sponge divers. Select wool sponges, like The Dérma Sponge (sea sponge for face), are imported from the Greek Islands as their gentle qualities are unique to the Mediterranean Sea.

Nisiá wool sea sponges are toxin-free, biodegradable, anti-bacterial, natural and sustainably harvested.