How Are Bath Sea Sponges Harvested?
Bath sea sponges are first collected from the Gulf of Mexico and moved to the cleaning process under several steps. Then sunbaked to remove all the unwanted tissue and outer black residue. Sponges are then rinsed and hung to dry before further processing. The next step is refining and cutting into ideal size for end users to bathe with.
Our natural bath sea sponges work best for removing dead skin, dirt, and oil without causing allergies. They function much better than their synthetic counterparts. The stiffness of sea bath sponges makes them ideal for natural exfoliation.
WHY CHOOSE THE SÓMA NATURAL SEA SPONGE FOR BATHING?
The Sóma sponge is a natural wool form, while many other natural sea sponges are yellow sponge cuts. This means that a whole sea sponge is cut at the root and will regrow from that root in the ocean, rather than a larger sponge being cut into pieces for personal use. Wool sponges are softer on the skin than yellow sponges, while yellow sponges are less expensive and may be better used for cleaning around the house.
Nisiá's natural bath sea sponges work best for removing dead skin, dirt, and oil without irritating sensitive skin. The stiffness of our sea bath sponges makes them ideal for natural exfoliation to be used as a dry brush before water is added.
Sea bath sponges have been used for centuries in Greek cultures for body cleansing and dead skin cell removal. Nisiá's natural body scrubbing sponges are great alternatives to synthetic sponges since they are naturally harvested and made from biodegradable materials that come in a variety of shapes and sizes. Natural bath sea sponges are rich in minerals and suitable for intact skin, which helps to improve blood circulation and keep skin glowing.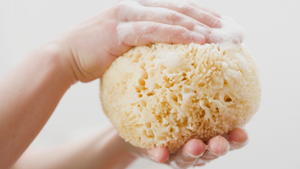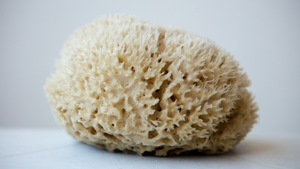 Eco Friendly & Mineral Rich
Toxin-free and eco-friendly, wool sea sponges are free from harmful chemicals and gently exfoliate skin for ideal smoothness. Say goodbye to plastic loofahs and say hello to an eco-friendly, sustainable alternative for bathing - the sea sponge.
Sea sponges contain essential minerals that your body craves, such as zinc, magnesium, and calcium, which nourish your body and leave your skin glowing. Unlike synthetic sponges, natural sponges create a dense and creamy lather that makes them perfect for using in the bath or spa.
Creates a Luxurious Lather & Revives Your Skin
Bathing with sea sponges elevates your bathing experience and provides rich lather for a luxurious, spa-like feel. Wool sea sponges are incredibly soft and highly absorbent, leaving you feeling fresh and pampered for your day.
A natural sea sponge is a great way to revitalize your skin, resulting in a radiant and natural glow to your body and making them suitable for all skin types. Sea sponges have amazing exfoliating properties that rejuvenate your skin cells and stimulate circulation.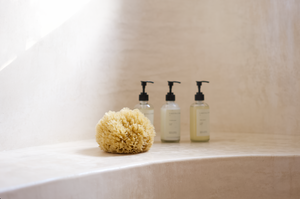 ---
FAQs
What are the benefits of bathing with a natural sponge?
Using natural sponges in your shower helps to exfoliate the skin and remove dead skin cells. Sea sponges create a rich, soapy lather, which gently cleanses the skin and lifts any dirt in the pores. There are plenty of benefits when it comes to using a natural sea sponge for bathing instead of a synthetic sponge or loofah., While wool sea sponges are exfoliating and remove dead skin cells, they also are ideal for people with sensitive skin. Natural sponges cleanse gently and do not contain any chemicals or dyes that might irritate the skin. As an added benefit to the environment, natural bath sea sponges are sustainable and eco-friendly.
How do I use my Sóma sponge (bathing sponge)?
Natural bath sea sponges are the perfect addition to a coastal wellness routine.
Wet: Add water and soap, then lather in the bath or shower and rinse after use. Store in a way that allows the sponge to dry between uses.
Dry: Dry brush your body starting at the feet and moving upwards in a circular motion. Focus on lymph nodes and brush lighter where skin is softer.
How do I care for and store my Sóma sponge (body sea sponge)?
Wash your sponge with warm water. Drain out water by squeezing the sponge. *Do not wring as this can cause damage to the sponge. Store in a dry environment to remove remaining moisture naturally. If you are placing your sponge in the travel bag, use a towel to soak up any excess water and allow it to air dry as soon as possible after travel. The sponge should dry out entirely after every use in order to prolong its life. Hand-wash your sponge regularly, but do not use harsh chemicals or a washing machine to clean your sponge. When you get in the shower, first rinse your body sponge with lukewarm water to return to its bathing state.
Are natural sea sponges sustainable?
Natural body sponges from Nisiá are 100% natural and eco-friendly. They are sustainably harvested for regrowth in the ocean and are free of plastics and dyes that alternative synthetic sponges and loofahs contain. Natural bath sponges are biodegradable and compostable for a complete sustainable cycle. Nisiá sponges come in reusable drawstring bags.
Should the sponge be hard when it arrives?
Yes, natural body sponges are hard when dry, which makes them perfect to dry brush or exfoliate your skin. Once water is absorbed the sea sponges become soft and ready to lather with soap. Hard wool sponges and silk sponges are actually more durable and will last longer than low quality sponges.