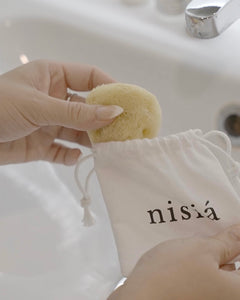 HOW DO I USE THE DÉRMA SPONGE?
The Dérma sponge, also known as a silk sea sponge for face, comes from Greece. Its silky-smooth touch makes it ideal for facial cleansing and gentle exfoliation. Dampen the sponge with water and add your favorite cleanser to use the facial sponge traditionally, or use with water alone to remove any dead skin cells. This small natural silk sponge is also ideal for makeup application. For best results, add a small amount of liquid or cream makeup (such as a foundation or cream blush) to a lightly-dampened sponge, then apply it to your face.
ARE SEA SPONGES SAFE FOR FACIAL CLEANSING?
Facial sea sponges gently exfoliate your skin, they derive naturally, and they don't have artificial or chemical elements in them compared to standard sponges, which contain many synthetic chemicals. Scrubbing conventional sponges and other harsh exfoliants against your skin can be harmful to your skin, damaging the outer layer and leaving scars or redness.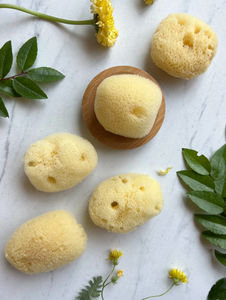 Gentle Facial Scrub & Deep Cleansing
When it comes to skincare, natural sea sponges are best for deep cleansing and rejuvenating your skin to reveal glowing, healthy skin. When paired with your favorite cleanser, toner, or serum, sea sponges nourish your facial skin and scrub away dead skin cells, while cleansing your pores gently.
Sea sponges are incredibly helpful to regenerate new skin cells, exfoliate, and remove old skin cells. Besides removing impurities, natural sea sponges restore your skin's natural glow and stimulate circulation. Your skin will feel more hydrated, refreshed and rejuvenated than ever before. Ground yourself and let your stress melt away when you add natural sponges to your skincare routine.
Sustainable & Cruelty-Free Silk Facial Sea Sponges
We source our facial sea sponges sustainably from the Mediterranean Sea. Silk sea sponges are exclusively used for facial cleansing because they are the softest natural sea sponges. Natural facial sponges help to gently exfoliate your skin and buff away your dead skin cells. These sea sponges are perfect to revitalize your skin and are a better choice for your daily skincare routine than disposable cotton pads and make-up removing wipes, or bacteria-collecting cloths.
Natural sea sponges are multi-celled organisms which means that, while they are not plants, they have no nervous system and are unlike other animals. The cruelly-free sponges are sustainably harvested to grow back in abundance and have a fully sustainable cycle as they are biodegradable and compostable.
Facial silk sponges can also be used in your makeup routine. They have fine silk pores which are a great alternative to using synthetic sponges and brushes for makeup application. The shape and size of the sponge make it easy to reach all skin areas, corners and curves of your face. Additionally, they are very effective for removing makeup.
---
FAQs
Can I use sea sponge on my face?
Nisiá uses silk sea sponges for facial use. These naturally soft sea sponges are perfect for cleansing and exfoliating delicate and sensitive facial skin.
To use, dampen the sponge with water and drain any excess, then add your favorite facial soap, face wash, toner, or serum. While cleansing your face the sponge will remove makeup and dead skin cells, providing a smooth and silky touch.
Natural sea sponges contain rich minerals that not only cleanse your face but also give your skin the essential minerals needed for a healthy and glowing finish. Make your skincare routine more effective by using the facial sponge with your beauty products.
How do you use the Dérma sea sponge on your face?
Dérma sea sponges are very soft and absorbing. Before using the sea sponge on your face, dampen your sponge so it is soft and silk. Add a drop of liquid soap or rub bar soap on the sponge, then slowly rub it on your face in a circular motion. A facial sponge will remove dirt from your pores and smooth your skin. Minerals found in sea sponges help nourish and maintain healthy skin.
How long will my face sponge last?
Dérma sea sponges can last around one year if cared for properly. Since they have natural antibacterial and anti-fungal functions, natural facial sponges last longer than synthetic sponges that hold onto bacteria and mold. Over time sea sponges will collect dead skin cells and bacteria, so it is recommended that you wash your sea sponge with a gentle cleanser at least once per week and allow it to dry completely after each use. Proper care and cleaning of your sea sponge will make it last longer and prevent it from breaking down naturally.
Should the sea sponge have a unique smell when it arrives?
Many natural sea sponges have a distinct sea smell because they truly come from the ocean. The face sponges are dried on the diving boats, then rinsed with a gentle solution so they are clean and ready for use when they arrive to customers. Rinse before first use and then the natural sea smell will dissolve. The most effective and safe way to care and keep it as new is to wash it after every use. You can also add a drop of a pure and safe essential oil, such as tea tree oil, to enhance the scent of your sea sponge on a weekly basis.
What do I do with my old facial sponge that needs replacement?
Natural sea sponges are a zero-waste product. When you are ready for a new sponge, your old sponge has many uses beyond hygiene and wellness. For example, you can reuse your sponge for cleaning around the house or for DIY crafts. When you are finished with the sponge, cut it up for compost or biodegrade it in soil. The natural sea sponge lasts longer than synthetic sponges, but if you keep an old sponge around for long periods of time, mold and bacteria will thrive. Sea sponges should be replaced every three to four weeks. If you're looking for a soothing facial cleansing, we've got you covered.